You want to be a conduit through which more can flow, so you can do more good in the world^_^
Even if you cannot help them out with food, or money, water, or a job opportunity, you help by extending the oneness vibration to them. You help just by setting the intention that everyone be heard, seen, treated fairly. You help by holding the desire that everyone get what they need to live in a human body, and you are sending out that signal to the universe as well that
you want to be a conduit through which more can flow, so you can do more good in the world.
We know that everyone can have enough there on Earth, just as we know that everyone's getting what they need energetically. We also know that not everyone receives at the same rate. Some of you are more accustomed to receiving than others.
Those of you who have received more can also demonstrate to your fellow humans how to open up so that they too can receive. You can teach others how to meditate, how to connect with Mother Nature and Mother Earth, how to feel for the energies that are around them. You can upload your own YouTube video. You can make your own blog post.
You can share with so much love in your heart all that you have been able to download and utilize for your own purposes of evolving and ascending, and that's why there are these different levels of consciousness and these different locations on Earth. It is all to give everyone the opportunity to experience themselves as one who gives and one who receives, one who lacks and one who has abundance.
And the coming together of the one who needs and the one who has to give is such a beautiful experience to witness, and we see more and more of that happening on planet Earth every single day, and that's what we are excited to share with you in this moment.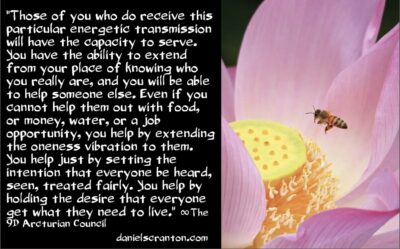 The Energies Upon You & Who's Receiving Them ∞The 9D Arcturian Council Channeled by Daniel Scranton
"Greetings. We are the Arcturian Council. We are pleased to connect with all of you.
We are quite certain that you are all getting exactly what you need to evolve and to ascend. We, and others like us, just want to help. We just want you to have extra support in working with all of the energies that you are constantly receiving, and we also know that you have your challenges with one another there on Earth. And we want to help resolve as much conflict as we can. We want to see all of you living harmoniously as you evolve and ascend, and we know that there are faster routes to getting there. Just like you don't have to hit rock bottom in order to start a path of recovery, but a lot of people do that, and that's okay.
When it comes to all of you coming together and living harmoniously as a whole, you don't have to be on the verge of nuclear war in order to come together. You don't have to have catastrophes, cataclysms, natural disasters, or bombs exploding to shake you all awake and help you realize that conflict resolution doesn't have to go to extremes before both sides, or both groups, or both parties come together because you realize at the end of the day you're all human.
You're all human, and you're sharing this beautiful planet of yours, which gives you everything that you need to thrive. But of course, people choose to incarnate in different places, to have different experiences, and not everyone is born into an area where there's plenty of food, plenty of drinking water, plenty of opportunities, and and so on.
When you start to receive energies of oneness from groups, beings, and collectives like ourselves, you cannot help but wonder how you can reach out from your place of having plenty to help someone who chose to be born in a place where they have access to a lot less.
That simple act of asking yourself how you can help elevates the consciousness of the entire collective. Now, when you follow through with an action, or an offering to help, you are taking it one step further. You are putting that sentiment into action, which gives it more energy and adds even more to the collective consciousness of humanity.
Now, everyone there is not at the same level spiritually, so not everyone is receiving those energies of oneness that are upon you now.
Those of you who do receive this particular energetic transmission will have the capacity to serve. You have the ability to extend from your place of knowing who you really are, and you will be able to help someone else. Even if you cannot help them out with food, or money, water, or a job opportunity, you help by extending the oneness vibration to them. You help just by setting the intention that everyone be heard, seen, treated fairly.
You help by holding the desire that everyone get what they need to live in a human body, and you are sending out that signal to the universe as well that you want to be a conduit through which more can flow, so you can do more good in the world.
We are the Arcturian Council, and we have enjoyed connecting with you."
What is your original responsibility?
Original destined to practice destined to practice 2022-08-03 06:09 posted on Inner Mongolia
https://mp.weixin.qq.com/s/S2E7YaULsLtfyZH5csk00Q
responsibility
"The following text is the content of fantasy creation."
This article was first published on September 26th, 21
Working body: Hello, high dimension. I suddenly want to chat with you.
High dimension: being willing to contact me actively is also the impetus of your own energy.
If responsibility energy blooms everywhere on the earth, how dazzling the earth will be.
Working body: today I want to talk with you about the topic of "responsibility".
Want to hear what you say?
High dimension: when it comes to "responsibility", many people don't become very excited, but feel afraid of having to bear the weight of life.
Others believe that responsibility requires hard work, and people will feel exhausted for this, so most people will avoid responsibility.
For soul, responsibility is an instinct of life, which belongs to the code engraved in soul;
It is the basic energy that life depends on for its glorious development in the universe. It is also the glory aura in life and an instinct of life itself.
The glory of linghun is always connected with responsibility.
It can be said that responsibility and glory are integrated.
Many people may think that because the frequency of soul is higher than that of the flesh, the state of consciousness of linghun is also higher than that of the flesh;
The body's attitude towards responsibility is normal.
No, no, life in the universe exists in the universe and is connected with the heart of the mother of the universe.
The universe needs to constantly develop its own energy;
At the same time, with the positive and bright energy as the basis for the development of the universe, the core energy framework dominates the development trend of life in the universe.
As a living body in the universe, it needs to constantly develop and expand its own energy in the field energy dominated by positive energy.
The body is originally a working suit set for the soul to perform the soul mission on earth.
As a work clothes, it should be with the spiritual Hun energy of its core;
The appearance of the physical body deviates from the spiritual Hun consciousness, or the consciousness of light energy, and the consciousness of the positive development of dominant energy in the universe;
It is also caused by the long-term pollution and infiltration of negative energy to physical energy.
Therefore, the low-frequency consciousness or relatively negative consciousness of the body for responsibility is not "normal", but the result of the alienation of the development of life.
Now, with the continuous support and care of the high-frequency energy of the universe for the earth and all souls of the earth;
It also makes some "people" who should have used spiritual Hun to cooperate with the physical body to open a mission in earth space have some awareness of "responsibility";
This awareness of "responsibility" will trigger a series of chain reactions in the mental model, mind and behavior of this "person".
However, when "people" practice their spiritual Hun responsibilities, they will also be pulled by many forces.
On the one hand, the soul pulled with the energy generated by many lives after falling into the earth;
The second is the suppression of the negative energy of the negative mechanism between the soul and the physical body, as well as the negative manipulation and management of the physical consciousness.
The third is the depth of the body's love for sentient beings and its recognition of responsibility.
What do you say?
Assuming that there is no obstacle between this person and soul, this person can also perceive the transmission of soul energy;
However, this person's physical body has insufficient love for all creatures, insufficient acceptance of its own mission, and insufficient sense of responsibility;
Then this person will also have a weak sense of responsibility and great love in the body, which will lead to the life path that the body needs to walk after the body can perceive the spirit Hun, even before the body is created;
The flesh will also be unwilling to walk, or look around when walking on this road, because his responsibility power is not enough.
As the core energy of life system, responsibility energy is a highly concentrated natural reaction and action of the energy of love.
Responsibility energy can be said to lay the tone and sublimation height of this life body.
The greater the responsibility of a life, the degree of dedication, purity and purity of this life also follow its responsibility and willingness to constantly calibrate and improve.
Responsibility energy is the main driver to promote the continuous growth and evolution of life;
Responsible energy can stimulate the source energy of the nucleus in life;
Promote the rebirth, evolution and upgrading of life from the inside out.
The more a living body clearly recognizes its own responsibilities, the more it lives with responsibilities;
Taking mission as the core kinetic energy of survival, the more he constantly implements his mission, the more attention he will receive from cosmic energy.
And the equipment carried by his soul, as well as his soul energy, will continue to upgrade and improve due to his more setbacks and courage between the earth.
If at present a living body has known the truth that the earth is wrapped in negative energy;
And also know their own soul's mission and responsibility to this earth, and choose to deviate from spiritual Hun, then they will also bear the consequences of their own choice.
And some people may not know their spiritual Hun mission after knowing the truth that the earth is negatively wrapped;
In fact, no matter what mission our spiritual Hun is now, if we choose a more noble aspiration of the cosmic heart;
Then its spirit Hun will also infinitely sublimate and develop its own energy, and contribute to the development of the universe.
Work style: Thank you for your explanation, high dimension!