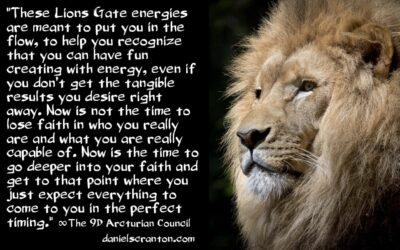 The Lions Gate Portal Is Wide Open…Now What? ∞The 9D Arcturian Council, Channeled by Daniel Scranton
"Greetings. We are the Arcturian Council. We are pleased to connect with all of you.
We are very excited about humanity's ability to create, and we are very eager to see what you create now that you have even more energy to work with there on planet Earth. We know that you are energy and that you are surrounded by energies at all times, but we like it when you expect to receive more energy, and we love it when you know you have more energy to work with, because you are so creative. Most of you are creating without realizing that you are creating, and many of you who are awake continue to create consciously even though you haven't seen any evidence to suggest that your creations have manifested into the physical reality. That is true faith and trust, and that is what you need when working with energy.
When you are working with metal, wood, or cement, you can see the results of your creativity right in the moment that you craft something out of those raw materials. But when you are working with energies you have to trust, and you must believe that energy will take form that is tangible at some point, unless of course you just do it for the fun of it. Now, when you are creating for the fun of it, that's when you are at your best. That's when you are at your most aligned. When you are creating because you have a deadline, or because you think you have to, or because you need to make money somehow, that's when you are less aligned with all of the creativity that is typically available to someone who is operating from the flow.
These Lions Gate energies are meant to put you in the